GLVCSN Extra Credit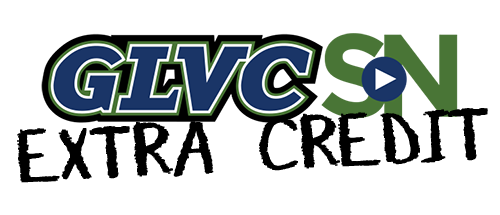 The GLVC is committed to using the GLVCSN as a resource to provide students learning opportunities and on-the-job experience on all 14 campuses and at GLVC Championship events.
The GLVCSN Extra Credit initiative provides students with interest in broadcasting, production, staging, sports information, print media, digital media, and social media an opportunity to gain complete control of the GLVCSN coverage from start to finish.
GLVCSN Extra Credit began at the 2015 GLVC Basketball Tournament by allowing eight students from five member institutions to take over the GLVCSN coverage for two games. In 2016, the program boasted 12 students from seven GLVC schools, while 10 students from four campuses took part in the 2017 edition. This past year, 10 students from six institutions participated in the program.
Off the court, GLVCSN Extra Credit expanded in 2016 to offer students broadcast opportunities at GLVC Championships in baseball, lacrosse, soccer, softball, and track and field.
Since the 2016-17 academic season, the GLVC has implemented its GLVCSN Extra Credit Student Ambassador Program, which seeks one student on each campus to assist the Conference office with promoting the GLVCSN in a number of ways, such as:
Brand Awareness: Wear supplied GLVCSN T-shirt on campus and to all events.
Recruitment: Staff an information table on campus and distribute GLVCSN flyers/T-shirts to interested students.
Marketing/Promotions: Coordinate and manage "GLVCSN Night" promotions at one volleyball, football, men's basketball, and women's basketball game this season.
Social Media/Communications: Receive access to GLVC's @GLVCSN Twitter account and create GLVCSN-specific tweets, videos, and pictures.
Assessment: Work with and provide feedback to GLVC staff, Athletic Director, Sports Information Director or GLVCSN "Faculty Champion" on campus.
GLVCSN Extra Credit Student Ambassadors were found on 14 of the 16 campuses in 2016-17, while 11 ambassadors from 15 campuses participated in 2017-18. The professional-development program will return in 2018-19.
For more information on the GLVCSN Extra Credit initiative, or if you have an interest in becoming a GLVCSN Extra Credit Student Ambassador, e-mail us at extracredit@glvcsn.com.